12 October 2017
Avid Design Group, LLC would like to announce three new website design and development projects that were recently launched for our clients; The Arc of the Big Bend, High Tide Roofing & Waterproofing, Inc., and Caribbean Reps.  Avid Design Group is a full service St. Augustine website design, print design and marketing agency serving clients throughout Florida and well beyond!  The three websites featured in this Blog post are each uniquely custom designed based on the visual layout and content presentation required to appeal to the targeted website visitor for each company.  Each website is programmed in the WordPress platform allowing each site to be maintained by the client through a content management system (CMS) and appear as "mobile friendly", thus meeting the Google mobile friendly search algorithms.
The Arc of the Big Bend is a non-profit organization located in Madison, FL that provides life skills development, school to work programs and employment placement services to individuals with intellectual and developmental disabilities (IDD).  The website offers in depth information on each of their services and how you can help support their organization and mission.  Click HERE visit the website or visit www.TheArcBigBend.org.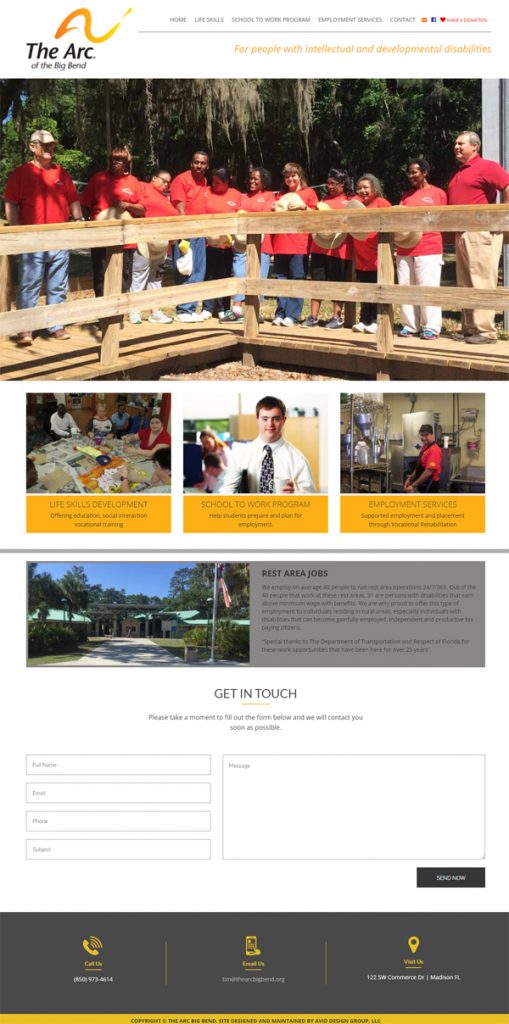 High Tide Roofing & Waterproofing, Inc. is a recently started new roof installation, replacement and repair services company started by well experienced general contractor and builder Bill Lanni.   Located in St. Augustine, FL, High Tide Roofing services all of the northeast Florida housing and commercial market. The website offers information on their roofing services, warranty's, and a gallery of completed projects.  You can visit the complete website by clicking HERE or visiting www.HighTideRoofing.com.
Caribbean Reps is a "boutique" destination planning services company serving clients interested in event planning, such as Honeymoons, Destination Weddings, and Family Reunions, targeted in the Caribbean Islands.  The website offers information about their services and the beautiful destination locations they work with to serve their client's needs.  You can visit the complete website by clicking HERE or visiting the site at www.CaribReps.com.